Note: This article about is about a real-world event, but only provides information about the event as it took place in Westside.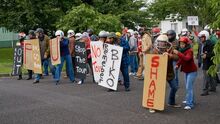 The Springbok Tour was a rugby tour by the South African team to New Zealand from June to August 1981, that divided the country and sparked widespread protests. The event serves as the historical backdrop for Series 2 of Westside.
Protesters
Edit
Supporters
Edit
Production
Edit
Real video footage from the protests, mostly taken from the documentary Patu!, was intervowen with footage shot for the series.
Ad blocker interference detected!
Wikia is a free-to-use site that makes money from advertising. We have a modified experience for viewers using ad blockers

Wikia is not accessible if you've made further modifications. Remove the custom ad blocker rule(s) and the page will load as expected.